Feel better. Look better. Be better.
Total Health
Integrated nutrition, fitness wellness tracking and assessment
Improve how you feel, look and perform with Total Health
"If you can't measure it, you can't improve it. —Peter Drucker"
Guided goals: lose weight, get fit & be well—focus on specific, targeted changes with perspectives.
Understand and improve progress with insights.
Connected devices from Fitbit, Polar, Nokia Health, Strava, and Misfit make tracking sleep, exercise, activity & weight easy and automatic.
Get more out of food logging with advanced nutritional information, behaviors & more ways to track.
Track more including blood pressure, glucose, measurements, mental state & body composition.
Weekly nutrition analysis spotlights caloric balance, diet quality & micronutrient intake.
Weekly fitness analysis highlights relationships between exercise, sleep & activity.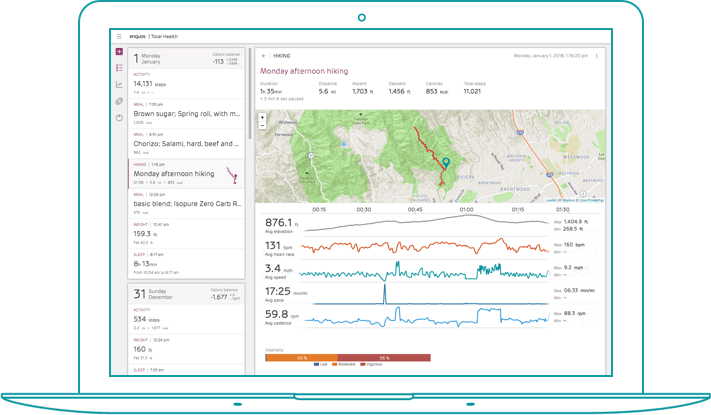 Total Health Features
Advanced Nutrition Tracking with macronutrients, empty calories, vitamins, minerals & more.
Meal and Behavior Tracking with photo logging, eating patterns, and context
Personal Foods, Supplements, and Recipes.
Exercise & Daily Activity Tracking with GPS, heart rate and intensity, connected devices, and Apps.
Resting Metabolic Rate & VO 2 Max Tracking, and System Personalization.
Sleep & Weight Tracking with connected devices.
Blood Pressure, Glucose, Mental state, Measurements, and Body Composition Tracking.
Timeline & Daily Summary—an overview of your day's actions and nutrition
Weekly Nutrition Analysis.
Integrated Weekly Fitness Analysis.
Perspectives with Insights.
Connected devices and Apps